Due to a high volume of email enquiries I received, the response time is about 1 to 2 weeks.
If you have urgent enquiries, consider donating a coffee and use the same email address to get a faster response.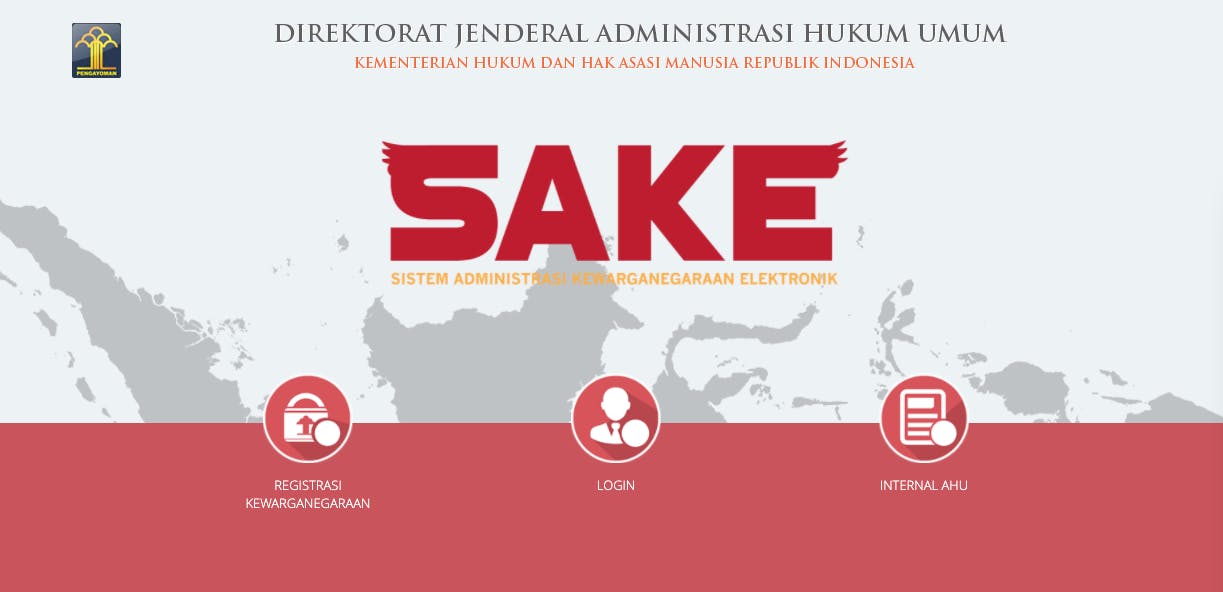 Link to this heading
Starting from January 2020, any new applications for renunciation of Indonesian citizenship will be processed through the online application Sistem Administrasi Kewarganegaraan Elektronik (SAKE).
SAKE is entirely managed by the Ministry of Law and Human Rights of the Republic of Indonesia, Directory General for Public Law Administration.
With SAKE, you have to go through the application yourself. Unlike before where you could engage a lawyer to prepare the application for you.
In this guide, we'll go through the step-by-step process so you can complete your renunciation process via SAKE.
Note: Before you can start submitting your application via SAKE, make sure you've complete Stage 2 of your Singapore Journey and you have received "Final Approval" letter from ICA.
Before we get started, make sure you have the following documents legalized by Indonesia Public Notary. You'll need to upload a soft copy of these documents to SAKE and send a hard copy to AHU.
Original Birth Certificate/Akte Kelahiran
Original Marriage Certificate/Akte Kawin (ROM or Laporan Perkawinan in English and Bahasa Indonesia)
Original Passport
ICA Letter (Final Approval (2nd) Letter in English and Bahasa Indonesia)
Original KTP (Kartu Tanda Penduduk) ~ if you have a valid KTP
You'll need to engage a sworn translator to translate the ICA letter and marriage certificate.
I recommend you to engage Mr. Zaimuddin Anwar from Tan, Lee & Choo. He has existing templates he's been using for translation and can do it really fast.
At this time of writing, he charges $30/page.
You could contact him via email at office_ind@yahoo.com.sg or WhatsApp at 96505794.
Note: Please make sure you double-check the translated documents before you schedule a time to collect them. Always ask him to send you the photo of the document so you could verify all the details.
There're feedbacks from the community where he made mistakes on important details.
So do your part and double-check the work.
If you see any outdated information or have any other feedback, feel free to send email to halo@byeindonesia.com.
Link to this heading
Register an Account
To start with, you'll need to register for an account at SAKE. Go to https://sake.ahu.go.id/ and click on the first link "REGISTRASI KEWARGANEGARAAN" to register an account.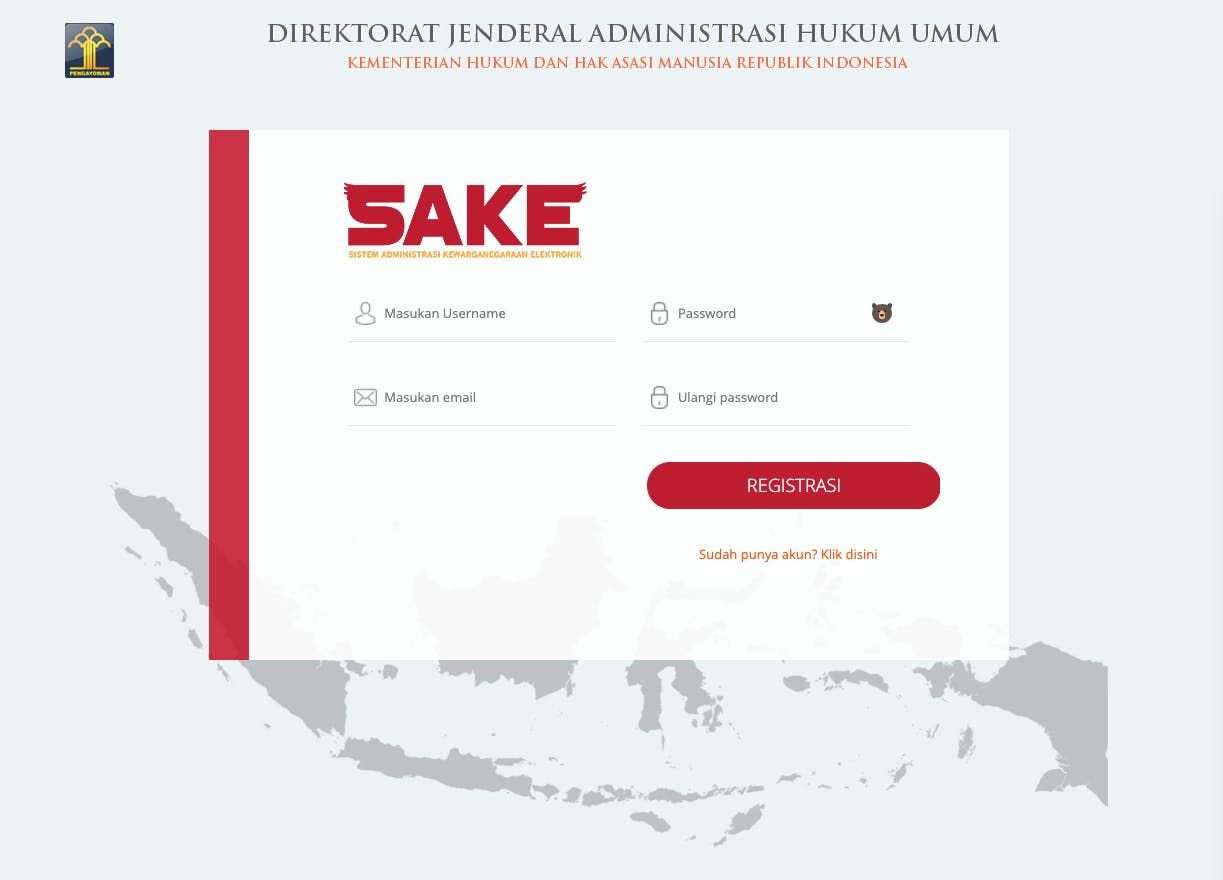 Link to this heading
Submit Your Application
When you log in to your account, you'll see all the 8 different options you could choose when submitting your application.
Choose "Permohonan Surat Keterangan Kehilangan Kewarganegaraan RI Atas Kemauan Sendiri Bagi Orang Yang BELUM Memperoleh Kewarganegaraan Asing ".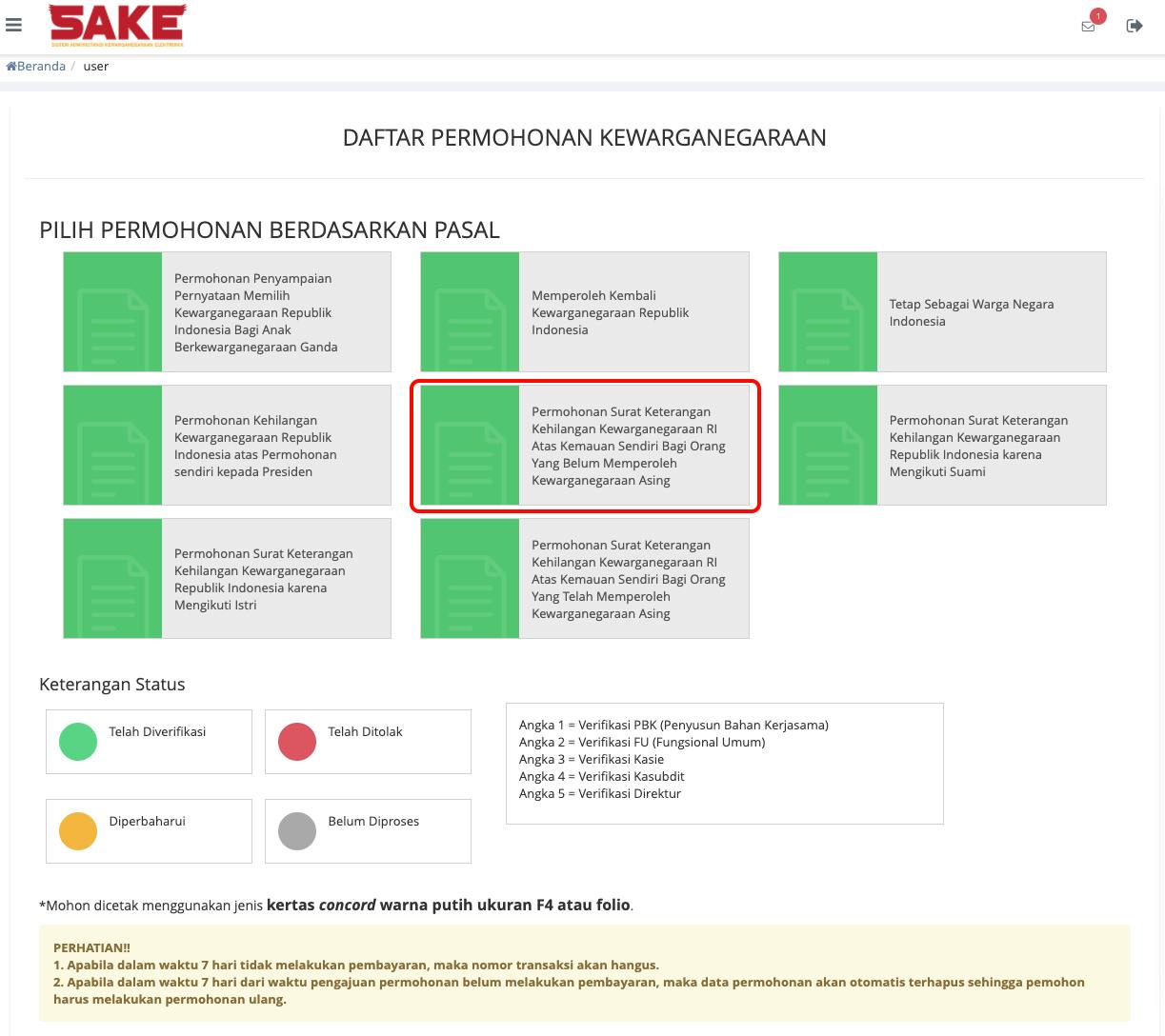 Fill In Your Personal Details
Next, you'll need to fill in your personal details.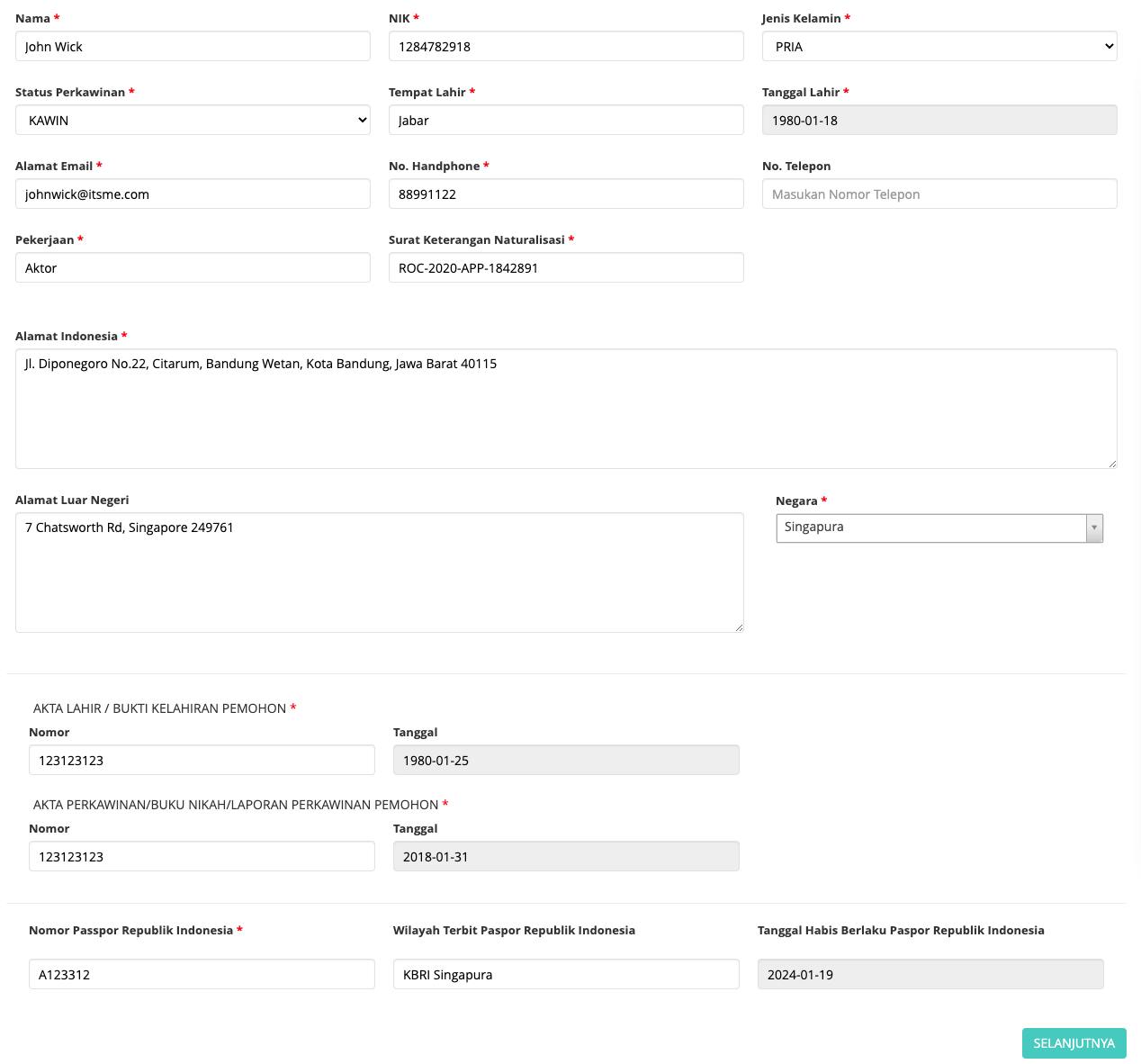 Things to take note of that threw most people off:
NIK (Nomor Induk KTP) - You could find this number on your KTP or KK (Kartu Keluarga)
No. Handphone - Fill this with your local handphone number without the country code
Surat Keterangan Naturalisasi - Fill this with your ICA's Application ID usually starts with "ROC-#"
Click "Selanjutnya" button.
Fill in Your Parents' or Guardian's Details
Next, you'll need to fill in your parents' or guardian's details.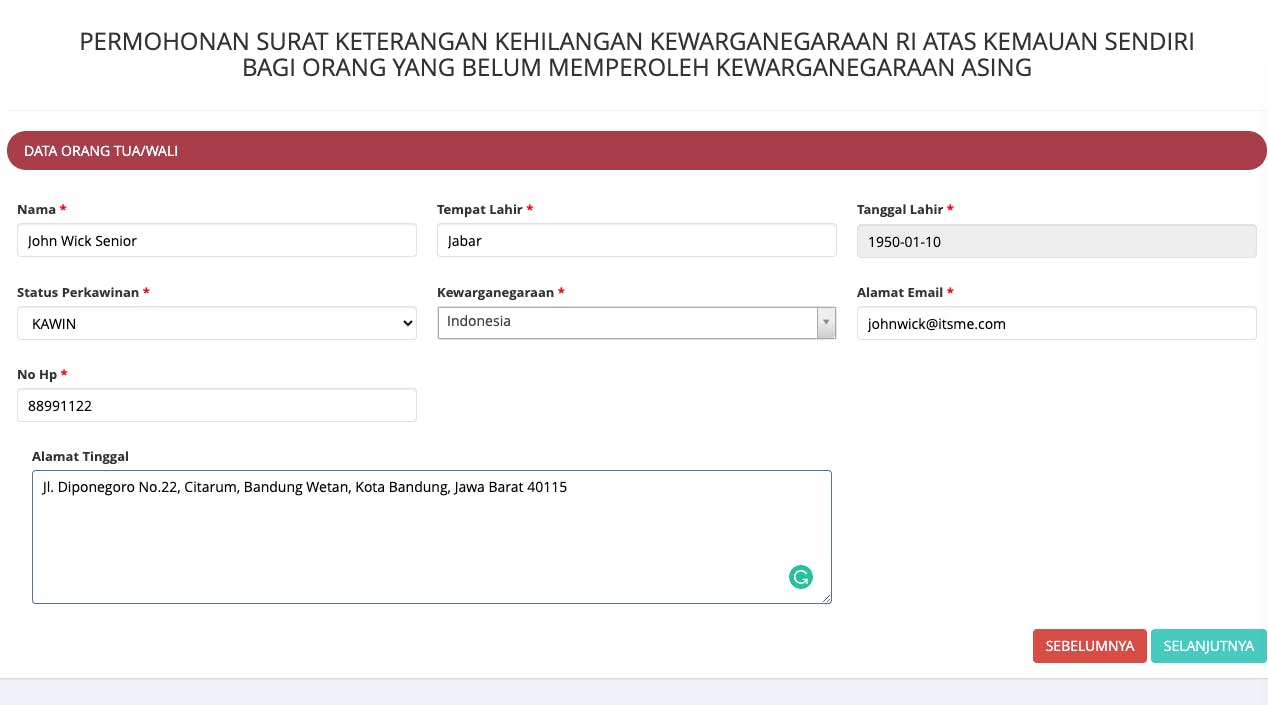 When you're done, you'll see a copy of "Surat Permohonan" that you could download.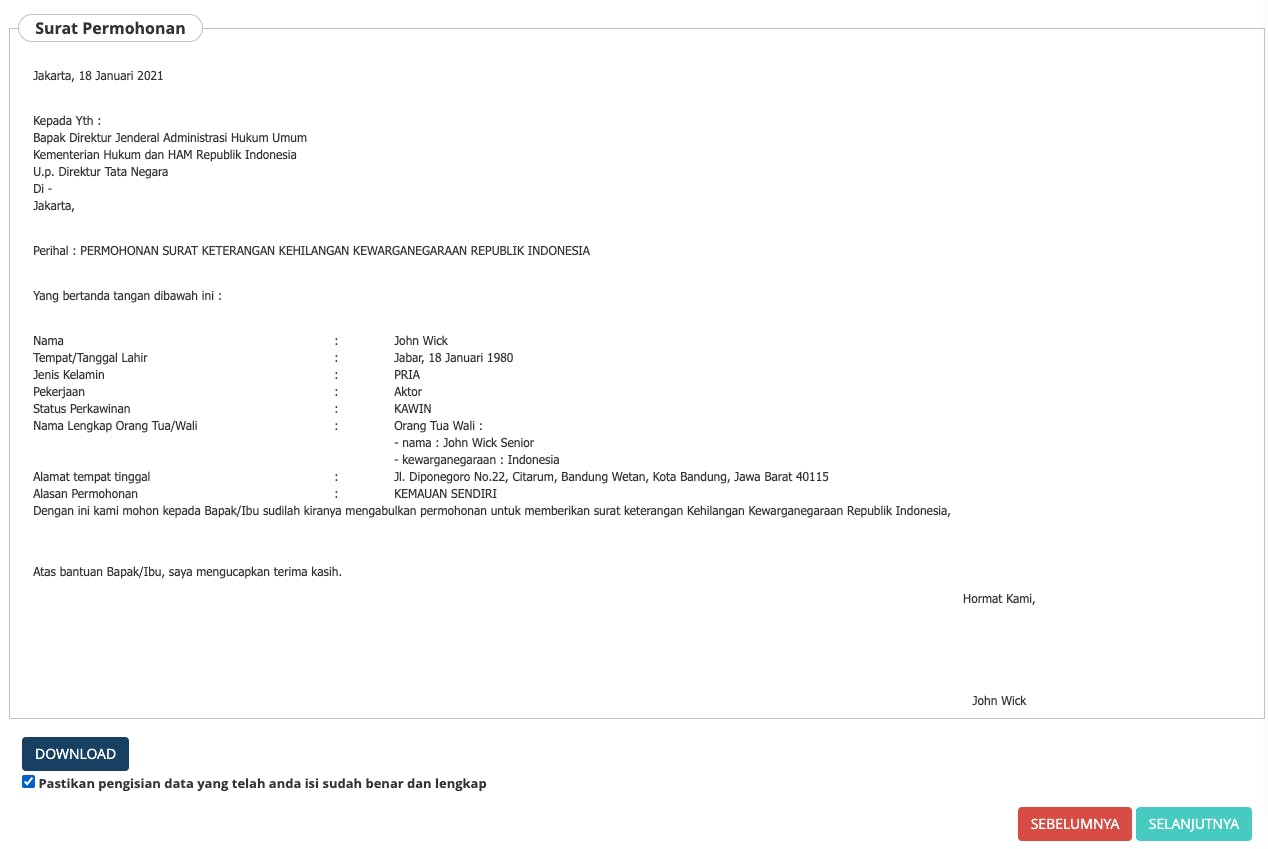 NOTE: Make sure the info you filled in matched the documents you're submitting.
Link to this heading
Upload Your Legalized Documents
In this step, you'll have to upload all the legalized soft copies you've prepared beforehand.
Make sure your soft copies and hard copies are printed and scanned in color, not black and white.
For each section, you could upload as many documents as you want. Just make sure you send the hardcopy to AHU for verification as well.
1. Birth Certificate
Upload a legalized copy of your birth certificate
2. Marriage Certificate
If you're married in Singapore and you reported your marriage at the Embassy of the Republic of Indonesia in Singapore (or wherever you are), The Embassy of the Republic of Indonesia will register and issue a document of registration of marriage which will be used to report the marriage at the Population and Civil Registration Office in Indonesia (Kantor Kependudukan dan Catatan Sipil di Indonesia).
You need to upload:
A legalized copy of "Laporan Perkawinan" issued by KBRI.
A legalized copy of your ROM certificate.
However, if you never report your marriage at the Embassy of the Republic of Indonesia, you need to upload:
A legalized copy of your ROM certificate
A legalized copy of your ROM certificate translated in Bahasa Indonesia
3. Passport
Upload a legalized copy of your Indonesia passport
4. Surat Keterangan Naturalisasi
For the ICA letter, you only need to translate and legalize the final approval letter (or second letter) that indicates your appointment date.
Upload the legalized copies of your ICA letter in English and Bahasa Indonesia.
5. Passport Photos
Upload 2 copies of your latest photo in 4x6cm with a red background. Refer to the sample photo provided.
Link to this heading
Make Your Payment
Next, it's time to make payment for your application. Opt for "Luar Negeri" and choose "Singapura".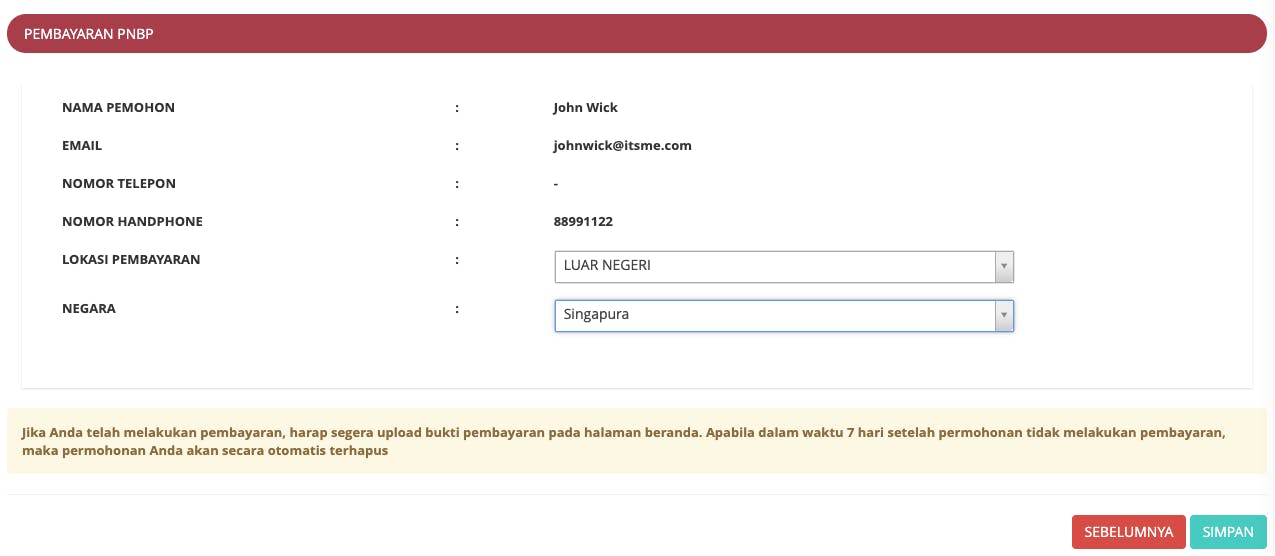 You'll be issued "Surat Perintah Bayar" as seen below: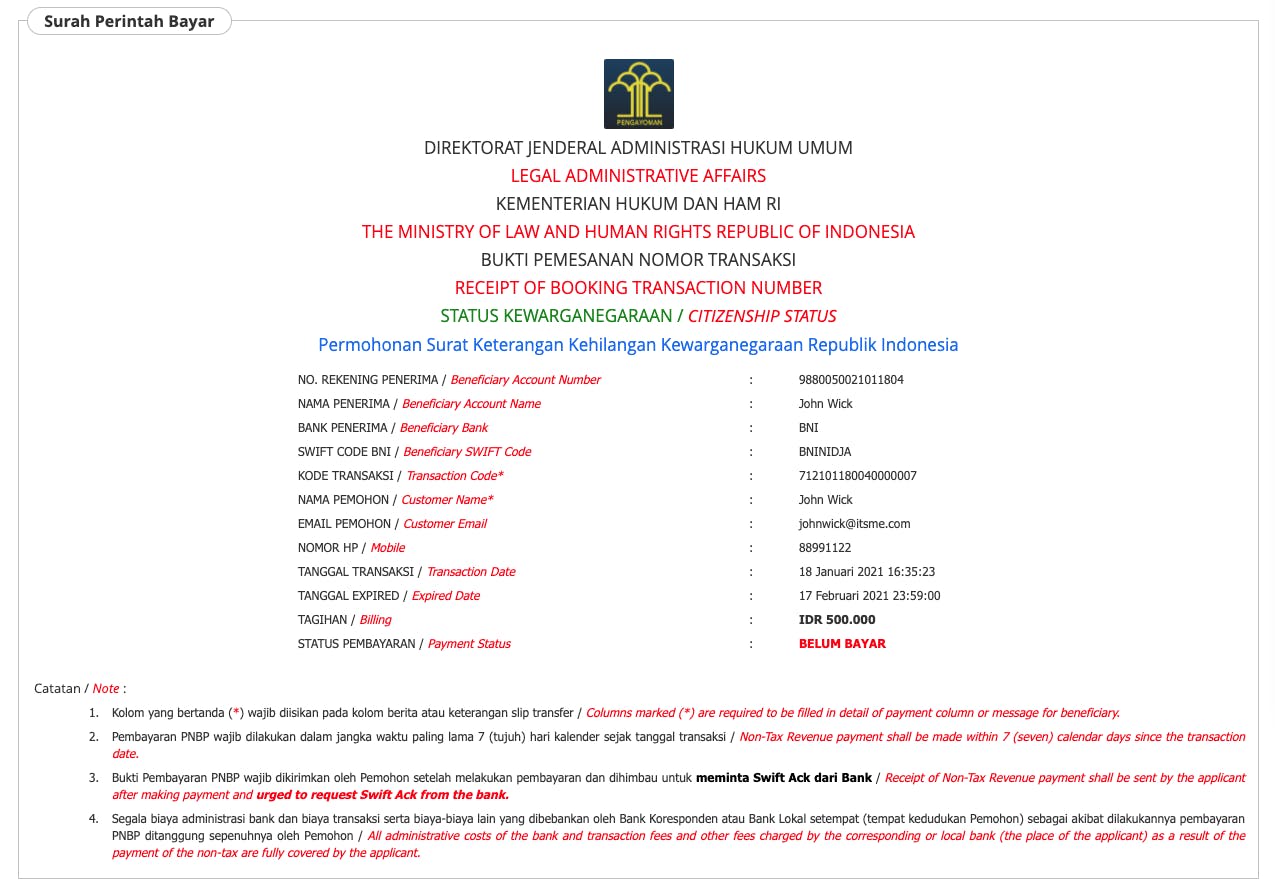 As soon as you've been issued Surat Perintah Bayar, you need to make payment within 3 calendar days.
Print out the Surat Perintah Bayar and bring it down to the BNI branch at 30 Cecil Street. You should be able to collect the payment receipt on the following day.
Once you collected the payment receipt from the bank, you need to upload it to SAKE.
Login to your SAKE account and click on the "Upload Bukti Bayar" link on your application to upload the payment receipt.

Once you successfully uploaded the receipt, the link will disappear.
Link to this heading
Send Your Documents
By now, you should have made payment and uploaded the payment receipt through the system. Go to your mailbox by clicking on the mail icon on the top right corner or visit this link: https://sake.ahu.go.id/pesan.
You should receive a new mail titled "Permohonan Selesai". It's time to send all the documents you uploaded via SAKE to AHU including the payment receipt.
Don't forget to download "Surat Permohonan" from SAKE.

You should courier the following documents via DHL:
Legalized copy of Akte Kelahiran
Legalized copy of Akte Kawin (Either ROM and/or Laporan Perkawinan). Please refer to the section above.
Legalized copy of Passport
Legalized copy ICA Letter (Final Approval (2nd) Letter in both English and Bahasa Indonesia)
Legalized copy of KTP (if you have valid KTP)
Photocopy of payment form (either payment receipt from BNI or payment transfer email from DBS Remit)
Passport photos with a red background - 2 pieces
Surat Permohonan to be downloaded from SAKE
You need to paste a materai Rp. 10,000 on the "SURAT PERMOHONAN" and sign over it.
NOTE: As of 2021, materai Rp. 6,000 is no longer valid
Attach the information below on the DHL Airwaybill.
Kepada Yth:
Direktorat Tata Negara
Direktorat Jenderal Administrasi Hukum Umum
Kementerian Hukum dan Hak Asasi Manusia Republik Indonesia, 
Gedung Direktorat Jenderal Administrasi Hukum Umum
Jln. HR. Rasuna Said Kav 6-7
Kuningan, Jakarta Selatan, DKI Jakarta 12940
Indonesia
Link to this heading
Approval Process
Verification will start once the hard copies are received by AHU and it needs to be delivered within 7 days after you upload the payment receipt.
Overall, you need to get 5 verifications to complete your application.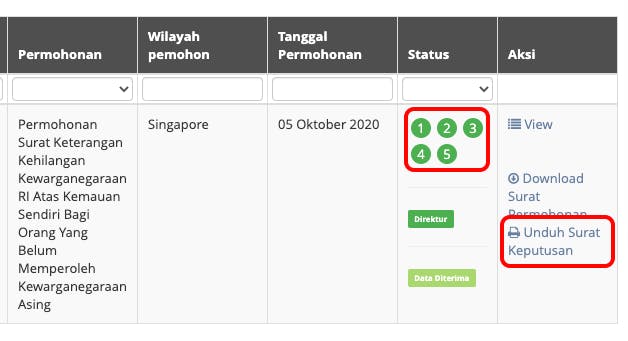 As per my experience, the first green verification took the longest time around 1 week after the document has been delivered. The remaining 4 green verifications took around 3-4 days.
You would hardly see red verification that indicates your document has been rejected. If there's any clarification required, you'll receive yellow verification. Click on it to find out what information you need to re-send to AHU.
Once you received 5 green verifications, you could download "Surat Keputusan".
Print 3 copies and send the PDF version to Mr. Anwar via email for him to translate.
Remember to check all the details before you collected the hard copy from him.
You'll receive 2 translated copies from Mr. Anwar - 1 for the embassy and 1 for ICA.
Link to this heading
Issues With Your Application
If for some reason, your application status on SAKE is yellow instead of green, it means there're documents you're lacking. Based on community sharing, you will hardly get a red status which means your application is rejected.
So, what should you do when you see a yellow status on your application?
First, don't panic.
Click "View" to see the comments from AHU related to documents you're lacking.
Next, prepare the missing documents and upload them to SAKE as you did previously.
Click on the "Ubah" button to upload the documents.
If you don't see the button, you'll need to wait till you receive yellow status on the last approval.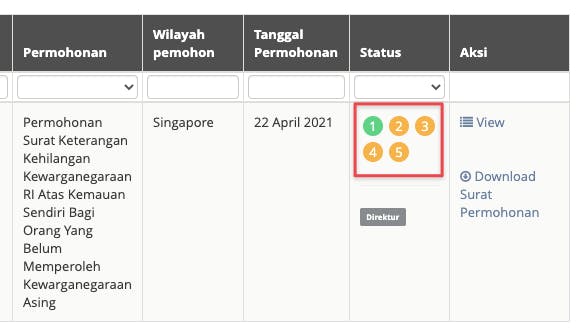 Once you uploaded the missing document(s), you'll need to send the hard copy of the document(s) to AHU again.
Note: To be safe, you could re-send all the documents plus the missing document if you still keep a copy of all your documents.
Link to this heading
Final Steps
Congrats you're at the final steps now. In these steps, you need to make the trip to the Embassy of the Republic of Indonesia to surrender your Indonesian passport and collect an acknowledgment letter
Due to the COVID-19 pandemic, you need to make an appointment before you could enter the embassy else you'll be turned down.
To make an appointment to surrender your passport, you could send an email to imigrasi@indonesianembassy.sg.
As per ICA requirement, you don't need to legalize the translated Renunciation letter so you just need to get it translated by Mr. Anwar and you're good to go.
From my personal experience:
I sent an email to ICA to enquire about the AHU letter.
I was told that I don't have to translate the AHU letter as ICA accepts the original letter in Bahasa Indonesia.
That saved me from making trips to Mr. Anwar.
Once you received the acknowledgment letter that you've surrendered your passport, you could set an appointment with ICA to finish your application.
Link to this heading
Love What You Did, How Can I Support?
These steps look confusing to you? It gives you more questions than answers? Send me an email and I'll do what I can for you.
Love the information on this website? Consider buying me a coffee to keep this website running.